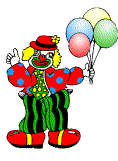 Practice your best knock knock jokes and your funny faces and you and your friends will be in for a treat. Meet some of Twisty's puppet friends and play the musical instruments.
There'll be bubbles and whistles and honkers too, games and shenanigans and musical statues.
Face Painting, lots of fun games, pass the prize box, funny story time.
​Optional extras
​* Balloon twisting
* Lolly hunt and fairy floss too
"Put on a happy face with the coolest clown in town"
Help Twisty find the rainbow after the party so she can go back home to Clown town